As you are living in an area which is covered by Lesco. We are here to help you get your bill right now. The purpose of this page is to provide you with a best and faster way to get your LESCO bill. You can get your bill simply by filling the information below and get your Lesco bill right now without any wastage of time.
NOTE: If you didn't get your bill with a reference number try it with Customer ID on your bill written next to the reference number.
LESCO Bill
LESCO stands for Lahore Electricity Supply Company the purpose of LESCO is to distribute electricity to district Lahore. This company also provides electricity to nearby cities which include Sheikhupura, Okara, and Kasur. Most of the people don't get the bill on time, therefore, they search for Lesco duplicate bill online.
LESCO Bill Online
Sometimes you receive your electricity bill just a few days earlier than its due date. that may cause a problem if you don't have funds to pay the bill therefore now such people can also check their LESCO bill online.
Now everyone has the internet in their home so accessing the website is easy and economical. You can download the bill and can make payment online form any online banks before the due date.
For downloading and checking the bill you have to visit the customer bill page on their website. On this webpage, you will get two options through which you can download and check your electricity bill. First through reference number.
In which you have to add the reference number that you can found on your bill. It includes 14 to 15 character including numbers and alphabets.
Second, through the Customer ID, you will also find the customer ID on top of your bill along with the reference number. It is a 7-character code that you have to enter in the LESCO website.
Entering Customer ID is fairly easy as compared to the Reference number. After that, you can click on a number of options available on it. You can either download and view your page or you can visit your customer menu. If you want to visit right now, Click the button given above.
The LESCO website also provides you with options that help you to calculate your bill and can make adjustment in the bill. Let's get into the detail of all these options that you can avail on LESCO website.
LESCO Bill Calculator
To check the authenticity of the bill charged you can also calculate your bill by using LESCO bill calculator. On this bill estimator or calculator page, you first have to select the connection type and phase. If you want to check your home bill, then go for home option in connection type but if you have any manufacturing firm you will select the industry option.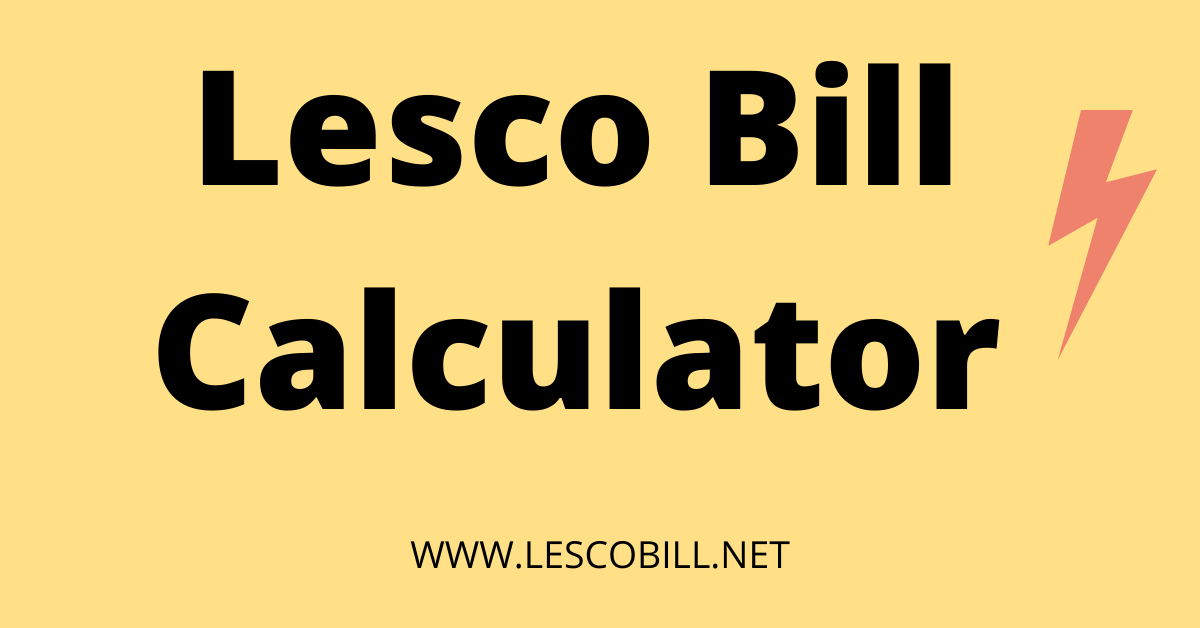 In the calculator, you have to add all the necessary options to calculate your units consumed. After that, you also have to add any meter rent, service rent, sales tax, GST exempt and so one. By filling all the necessary options click submit and you will get the result of your electricity bill.
LESCO Bill Relief
LESCO also have the relief package for those who are unable to pay their whole bill. Under this relief, those people whose electricity bill are below 300 units can pay their bill on 2 or three instalments.
The same relief is also available now for everyone because of coronavirus pandemic. Therefore, people who have used 300 fewer units can apply for this relief and they will pay the bill in three instalments.
LESCO Bill Correction

For bill correction, you can first have to calculate your bill if you are confident that there is a mistake in your bill you can file a complaint on their website regarding this. Select the complaint type and enter your bill's reference number, meter number, name, address, and complain details.
Hit the submit button and you will be notified once your complaint will be reviewed. For early processing, you can also provide your phone number and email address on the option.
LESCO Bill Notification
If you want to be updated regarding meter reading, meter reading date, the amount of bill charged, the due date of the bill and payment confirmation detail then you will get a notification on your handset. For this, you have to register yourself for the SMS alert. This notification and SMS system is very helpful in a number of ways. You have the check and balance system and you can also plan your things according to the load shedding schedule that you will get as the notification early.
LESCO Bill SMS Alert
You can register yourself for SMS alert on their website. On SMS alert you will also get the SMS regarding load shedding schedule and shutdown schedule in time. For registration, you have to visit their website and fill the form by adding your name, customer id, email address and mobile number.
This is the facilities what LESCO website is providing you and many people don't know about these things.
Pay Bill Online Jazz Cash
There are many ways to pay bills online in Pakistan but the easiest way to pay your bill online Is through JazzCash or bank account. Most banks mobile applications allow you to pay your bills and same is the case with JazzCash and EasyPasa mobile app.
JazzCash is the easiest so I am going to teach you using the JazzCash app. You can follow the same process for the bank app or Easypaisa application. You can also use the same method to Pay bill online ptcl
Step 1: On you, bill note down the reference number on the upper left corner.
Step 2: open your JazzCash mobile app and select pay bills.
Step 3: Select Electricity from the list. You can see you have the option to pay all types of bills.
Step 4: Now you have to select a related company from the list below. We will select LESCO as that is our electricity providing company. You can find your company on the upper left corner of your bill.
Step 5: Enter your reference number which we have noted in the first step. You will get popup displaying your bill amount and enter your JazzCash pin code to pay the bill.
For more convenience, I have added a video below which will help you follow the process more easily. See the video given below for more details.
Lesco Online Complaints
This portion is going to cover how you can submit bill online complaints. There are a lot of different categories in which you can submit a complaint. But the problem is which you have to select and how you are going to find which category is for you where you have to submit your lesco bill complaint.
Don't worry we got you covered so let's discuss all types of complaints and how to submit them. The process is very easy. For complaining, you have to go to the official website and you are going to find the following form.
Fill the form with the required information and submit. after that, you can track your lesco complaints from official website.
Lesco Complaint Helpline Number
Another way to submit your complaint is through call and lesco has various customer services centres. All have different purposes so make sure you call the centre which is related to your problem. The following procedure will help you get your problem resolved much sooner.
Power Falier Complaints 0800-00118
For Billing Complaints, You have to go to the nearest customer service centre. This will be different for every area you can get the required number.
For Extension in Due Date of Your Bill, You have to go physically to the nearest customer service centre,
For Bill Installment you have to check these instalment powers.
For Obtaining Duplicate Bill Scroll up on this page you will find a box fill the required information and get a lesco duplicate bill.
Lesco Jobs
Lesco is a part of WAPDA which means they have a good amount of job. The first reason people want to work for WAPDA is that they give many benefits like pension and good salaries. If you are here to search for lesco jobs then we will suggest you go on LESCO official website and check the news and job section.
Mostly lesco jobs are announced on their official website which is the most trusted source or you can check other job-related websites for finding jobs. You can also get lesco gov pk modules customer bill menu from here.
Electric Bill
When you are looking for your electric bill all you have to do is visit any relevant site eg lescobill.net and check your electric bill. Every month you are most likely to pay your electric bill. If you are not able to pay for one month you will get that bill attached with next month bill. If you still didn't pay your electric bill are you most likely to get your electric meter removed.
Electricity Bill Online
if you want to check your electricity bill online all you have to do is visit the page below. just click the below button and on the next page put your reference number or customer id and click get my bill. You will find this month electric bill.
FAQ
How can I check my bill?
The easiest way to check your bill is by using the box above and enter your bill reference number and check your bill. You can also go to lesco official website and do the same procedure. the above table will also do the same process and take you to the lesco website.
Why Online Billing System is Useful
If you are here to get lesco duplicate bill you know the answer already. If you had lost your bill or you are away from your home company will not give you any chance not to pay the bill. You have to pay where ever you are or in whatever problem you are in. So all these benefits are because of online billing systems which help you to become location independent.
What are LESCO peak hours?
There are three main seasons when LESCO has peak months
December to February
March to May
June to August
September to November
In all those peak months the usage of electricity is more than normal usage and you will notice in those months we have more electricity shutdowns usually. In these peak months, we have peak hours of usage which are listed below.
5 PM to 9 PM
6 PM to 10 PM
7 PM to 11 PM
 6 PM to 10 PM
Other hours from the above list are the off-peak timing in which usage of electricity is not much as compared to peak hours and the billing rate is also low.
What is Lesco bill
Lesco bill is a facility that helps people to get their electricity bills online so that they can submit it before time. If you have lost your bill what you have to do is enter the reference no. of your old bill and get lesco duplicate bill online using this website.
What is ADMC in Bill?
Every electric company adds fuel price adjustment in their bills because they use fuel in production. The adjustment is different for every electric company. Each company has its own criteria to calculate the fuel price adjustment. Our government has also its own criteria. LESCO also does the same and this process is called ADMC and it is 1.8813/kwh.
How do I download an old Bill?
You can download any old bill simple having access to your reference number. If you have your reference number of any old bill you can simply fill the form at the start of this post and hit proceed. You will be taken to another page where you have to select the time of which you want the bill and hit download.
What is the cost of 1 unit of electricity in Pakistan?
For the first 100 units, the domestic price is RS 12.09 PKR. Once you have consumed 100 unites and crossed this threshold you will be charged 13.54 per unit for the next 100 units.
What is the price of 1 Unit electricity?
For the first 100 units, the price is RS 12.09 and for the next 100 units, the price is 13.54 PKR.
What is the best time to use electricity to save money?
As I have discussed Lesco peak hours above which are
5 PM to 9 PM DEC to FEB
6 PM to 10 PM March to May
7 PM to 11 PM June to Aug
6 PM to 10 PM Sep to Nov
So try to use less electricity during peak hours. you will save money if you will use electricity in other hours. Another way to save money is to try to have solar energy usage more and electric energy usage less.
Also, check more posts: 
QESCO Bill Duplicate Online