If you don't know' how to apply for LESCO Bill Distributor Job, don't worry. Just follow the procedure and you are done.
Visit the lesco website lesco.gov.pk.
Log in or register.
At the home page, click "online jobs".
Click "apply online for the job".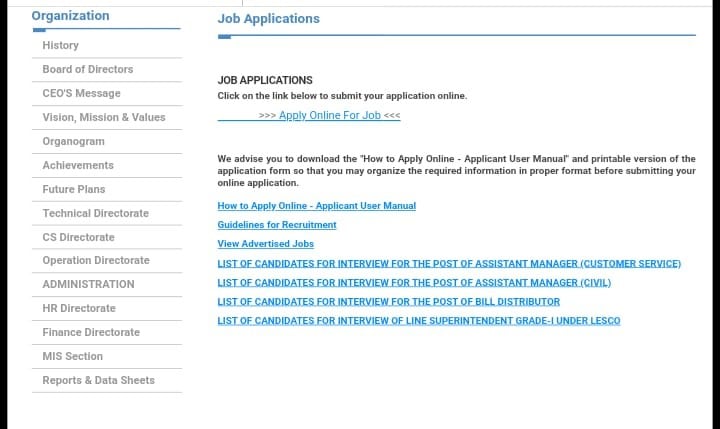 If you don't know the criteria, you can click the links given in the above website.
Criteria
At least matric pass.
Good communication skills.
Age from 18 to 20.
Only the one can apply who has a domicile of Lahore, Okara, Sheikhupura, Kasur, and Nankana Sahib.
Click Here to Check LESCO Duplicate Bill
Distributor Job Advertisement
LESCO doesn't provide jobs every year. Till now, there is no job in 2020 related to bill distributor. LESCO provided jobs in 2019 and I am sharing the advertisement by which you can get the idea about everything related to the job.

Once you apply and then qualify the written test. LESCO upload a merit list of those who will come for an interview.
Documents
The following documents are required at the time of interview so bring them with you.
Interview call letter.
CNIC
Matric certificate.
Domicile
Passport size photographs (2).
Those candidates who don't have their original documents with them will not be considered for an interview.
LESCO Bill Distributor Job Information
LESCO provides a good opportunity for a matric pass man. Working hours of this job is fixed and also a good amount as a salary.
LESCO Test Preparation
This test is conducted by NTS every year. The efficient method to prepare for paper is to do preparation from LESCO Bill Distributor past papers and their related jobs past papers.
LESCO Bill Information
There is a lot of information related to LESCO bills. Some of the major and frequently asked:
Why LESCO provides jobs of bill distributor?
LESCO introduced online bill checking, paying, and duplicate online bill services so why they need bill distributors?
As sometimes, the bill is not received by some of the homes in restricted areas by bill distributors so those who don't receive, they get their duplicate bill online from the website.
What if someone doesn't have internet or smartphone?
That's why LESCO needs bill distributors because not everyone has internet or smartphones.
LESCO Online bill information
If you want to check your bill online there are simple and some steps, which are written below:
Just visit lesco.gov.pk.
select "customer bill".
Enter your reference number (at the top left of your LESCO bill )
Click download or print.
You are done.
You can also check your bill through customer id (at the top left of the bill) and you can also download or print your old bill which you have lost or your current month bill which you didn't receive.
Payment of LESCO bill online
There are different apps that provide you with online bill payment services. To know, how you can pay your online bill, click the link below
Click Here to Check LESCO Duplicate Bill
Related Articles: