Voice calls are considered to be one of the best modes to communicate among friends. There are different companies who give you on and off-net minutes. But do you have any idea which company facilitate its customers perfectly?
From day one Ufone came into existence, Ufone has always been trying its level best to complete the requirements of its users and has introduced a different type of packages for its users. Aside from economic internet packages Ufone also provide its customers best economic call packages.
Usually, companies offer its customers call packages which would be valid for 1 day, a week or maybe a month. But Ufone always being the best in terms of packages is now offering a 3 Day Call Package which will consist of on-net minutes along with PTCl minutes with SMS and Internet as well.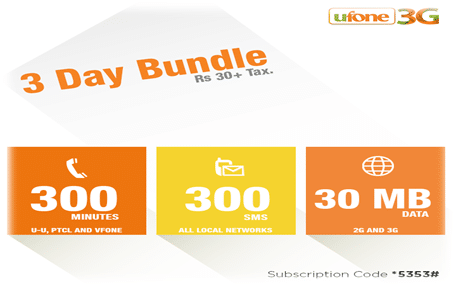 This Ufone 3 Day call package is providing 300 minutes to call at Ufone to Ufone plus PTCl and Vfone. Moreover, Ufone is facilitating its customer by giving them 300 SMS for all local area networks within Pakistan. Aside from these, you will also get free 30 MB internet data for all 2G and 3G networks.
You can't find a trio like this in which you're having calls, SMS and internet in just one package for just RS 30 plus tax by dialling *5353#. You can also subscribe to this offer by visiting Ufone's official website
This 3 Day call package has a validity of 3 Days. After subscribing to this 3 Day call package you've 3 Days until the package is expired. The following table will be more helpful to understand this package.
UFONE 3 DAY CALL BUNDLE
| | |
| --- | --- |
| CHARGES | RS 30 |
| VALIDITY | 3 DAYS |
| ON-NET + PTCL MINUTES | 300 MINUTES |
| CODE FOR SUBSCRIPTION | *5353# |
| SMS | 300 SMS (ALL NETWORKS) |
| INTERNET MB'S | 30 MB'S |
Terms and Conditions:
Following are the terms and conditions that you need to keep in mind while subscribing to this 3 Day Call Package:
There is a call setup charge of RS 0.13 + Tax on every call.
This offer is valid for all prepaid customers. Postpaid customers are not eligible for the package.
There is a limited call duration of 59 minutes and 59 seconds. Which means after 59 minutes and 59 seconds your call will be disconnected automatically then you've to call again if you want to continue talking.
This offer can be subscribed to more than once. Which means that you can subscribe to the same offer any time before the first one expires.
Calls that are for voice buckets, short codes and UAN numbers are not included in this offer.
Fair Usage policy of 300 minutes per subscription is applied.
Most important that your SIM card is your identity. No person without biometric verification will not be entertained through any mobile package. You need to be biometrically verified before subscribing any package through Ufone.