Ufone in Pakistan has well recognized due to its packages weather it is an internet package, on-net and off-net packages, SMS packages or all-in packages. Ufone has always been the best throughout these years.
Now keeping in mind the demand of customers Ufone has introduced another package that is known as Ufone Mega Internet Offer. This offer is second to none, as it is providing more MB's at less price.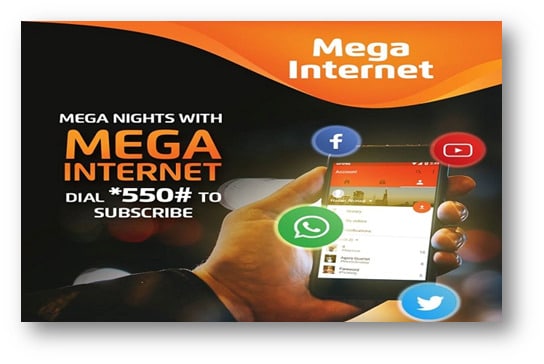 Ufone brought this offer for its new customers. In this offer, you can get 2 GB internet for just rupee 15. You can utilize this offer in a limited time. This offer starts at 1 AM and ends at 8 AM. So you have a huge bracket of time of 7 Hours.
You can subscribe to this offer 7 days a week. Which means that you can enjoy your Mega Nights with Ufone daily. You can use your favourite apps without worrying about MB's whole night. Or you can watch or download any movie you want to.
Ufone is striving hard to give its customers the best experience of internet services. And this Mega Internet Offer will surely be loved by those youngsters who keep awake at nights or office workers who work from home late at night. For Example Freelancers.
How to Subscribe to Mega Internet Offer
Ufone had made everything easy for its customers. To subscribe to this Mega Internet Offer you just have to dial *550# on your phone which is the easiest way to subscribe to this offer. Another way to for subscription is to visit Ufone's official website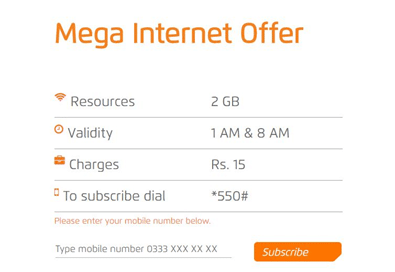 You'll find this on their website. What you just need to do is to enter your mobile number the rest will be done automatically by the company. You just need to have RS 15 in your account.
Terms and Conditions
There are a few terms and conditions to subscribe to Ufone Mega Internet Package. If you are eligible for the following terms and conditions, you can proceed to subscribe to this Mega Offer.
You must remember that the beginning time for this offer is 1 AM and expiry time is 8 AM.
Only pre-paid customers are eligible for this offer. No post-paid customer will be entertained through this package.
This bucket of the internet is valid for both 2G and 3G services. So if you're having 2G services no need to worry Ufone takes care of its every single customer.
This product allows you to have multiple subscriptions.
You can check your remaining resources of this offer by dialing *706#.
Last thing to be remembered that your SIM card is your identity. So only use the SIM that's been issued through Biometric Verification.